Greg Murphy and Holden New Zealand have started the new year with a special reveal of the motorsport legend's latest adventure in the world of motorsport – a brand new Holden Barina developed specially for the New Zealand Rally Championship.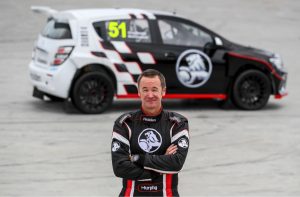 The reveal took place at Hampton Downs Motorsport Park in front of assembled media and supporters of the 20-year Holden driving veteran, together with Greg's teammate Cantabrian Josh Marston, who will be driving a second Barina in the Championship.
"I've enjoyed many victories here at Hampton Downs and would like to think a little of the same success might rub off on my new endeavor," said four-time Bathurst champion, Greg Murphy.
"I've been interested in rallying for a number of years, and the launch of the new-look model year 2017 Barina in Holden showrooms, complete with its new front fascia, grille and rear fascia, is the perfect time for me to get behind the wheel of the new car.
"It's going to be an incredibly steep learning curve and I have realistic expectations about how well I can do, but I have a superb teammate in Josh and I know he'll be able to provide some expert advice as I get to grip with this new motorsport experience."
The Managing Director of Holden New Zealand, Mr Kristian Aquilina, was on hand to congratulate Greg as he got his new programme underway.
"Just as the Holden brand is embarking on an exciting new direction, Greg himself is also making tracks in a dynamic new way – one which will see him trade Commodore Supercars for the thrills and adventure only a rally car can offer," said Mr Aquilina.
"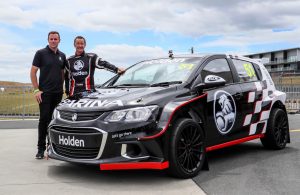 Everyone at Holden naturally wishes Greg and Josh all the best for their new campaign and we'll be watching with anticipation to see how the guys perform in their new Holden Barinas."
Greg's Holden Barina will make its competitive debut at this weekend's Leadfoot Festival in Hahei, then both cars will participate in the six-round 2017 New Zealand Rally Championship which commences in April with the Rally of Otago.
The new Holden Barina is available now at Holden dealerships around the country and features carryover pricing starting at $22,490, but offers an enhanced value equation due to the inclusion of additional features and specification.
The new model also raises the level of connectivity available thanks to the inclusion of Apple CarPlay and Android Auto as standard and it also receives significant external and interior enhancements, demonstrating fresh and engaging styling which lifts the appearance of the new model to a new level.
"The enhanced appearance of the Barina and inclusion of additional creature-comforts such as passive-entry push-button start in the LT make the new model a very desirable place to be and helps to maintain its reputation as a fun to drive car," said Mr Aquilina.
"We'd like to think the great looks and outstanding features of the new model, combined with increased exposure through the new rally programme, will help broaden the overall appeal of this dynamic new small car."
Holden Barina Rally Car Specs
• Holden Barina AP4 Rally Car prepared by RDL MotorSport
• Force Motorsport AP4 Body Shell and Suspension
• GM 2.0ltr Ecotec 4cyl Engine
o Capacity reduced to 1.8ltrs with Garrett GTX 2860 Turbo Charger, 350Hp & 500Nm
• Life Racing ECU
• Motec PDM and Dash
• Sadev 6 Speed Sequential Gearbox and 4WD
• Brembo Brake Calipers
• Tilton Pedalbox with AP Cylinders
• SupaShock Dampers
• Racetech Seats and Safety
• Bespoke Holden Barina AP4 Body Kit
• Speedline Wheels
Holden Barina (Model Year 2017)
• 1.6ltr four-cylinder petrol engine
• 85kW @ 6000rpm
• 155Nm @ 4000 rpm
• 6-speed automatic transmission with Active Select
• Holden MyLink infotainment system with 7" colour touch screen display
• Phone projection featuring Apple Carplay and Android Auto