28th May marks the celebration date of one Australia's all-time favourite guilty pleasures – the burger! Its origins remain unclear, but one thing's for sure, since its emergence on the food scene circa 1800s, it's unwaveringly stood the test of time.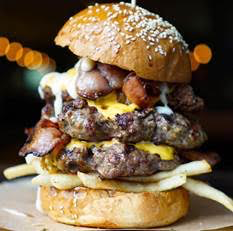 According to a survey conducted by restaurant delivery service foodora, Australia has a HUGE appetite for these meaty patties and globally we're in the top three countries that chooses this dish as our favourite meal to order in.
Sydney is particularly obsessed, with an overwhelming 76% ordering burgers over any other cuisine, and compared with eating the patty out at restaurants, most of us would rather chow down in the comfort of our own home, with the TV as our fave accompaniment, well that and the French-fry!
If you're wondering what the most popular burgers are – Sydney siders are choosing the Chicken Burger, whereas in Melbourne and Brisbane a classic cheeseburger comes up trumps.
With 75% of Aussies saying they choose to order via food delivery apps, because they're just too lazy to cook, coupled with the fact that over half of us report that we constantly have an empty fridge, it seems our appetite for on demand restaurant delivery services is only rising.
Top of our wish list for where we most want to order from in Sydney is the legendary BL Burgers, Guilty and Down N Out, in Melbourne it's Brother Burger, Brooklyn Depot, The Beer and Burger Bar, and in Brisbane: Miel Container, Chur Burger and Fritzenburger.
To celebrate the day of the hamburger, foodora has joined forces with its biggest burger partners, so that when you order a burger from 28th May, for one week only, you'll receive a free scratch card included with your order, offering the chance to win a selection of fantastic prizes including; a month's supply of Ben & Jerry's, Koala vouchers to the value of $200, $10 Dendy vouchers, plus a variety of $10 to $100 foodora vouchers.
About foodora
foodora is a global leader in food delivery. The company was launched in Germany in October 2014 with a mission to partner exclusively with high-quality restaurants which typically don't deliver and revolutionise the food delivery experience. In less than two years foodora has won hearts and stomachs, expanding to over 50 cities around the world and more than 7500 restaurants. In March 2016 foodora launched in Sydney, Melbourne & Brisbane.