Easter eggs, we love them, we'll eat them all year round if they're anywhere to be found at Dads Stuff HQ. But using them for your main course of Steak in an Easter meal, well that's new to us. So… read on, and then thank Traeger Grills ambassador Josh Dixon for this amazing recipe.
Traeger Steak rubs are helpful in elevating the flavour of your steak up a notch and giving it a nice, crispy crust. This crust also protects the meat from drying out, so you're more likely to keep its natural juices intact during the cooking process.
With Easter around the corner this chocolate and coffee rub is one that you'll keep going back to and not just at this time of year. It includes the bold and bitter flavours of chocolate and coffee, the sweetness of dark brown sugar, the punch of paprika, chili powder, and garlic to give your steaks the perfect blend of the flavour profiles you love. The end result is a tender steak with a crisp crust, a moist middle, and rich flavours that take the taste of steak to another level.
And to make the Easter Bunny proud, serve with a side of chocolate sauce that you'll want to drink straight from the jug.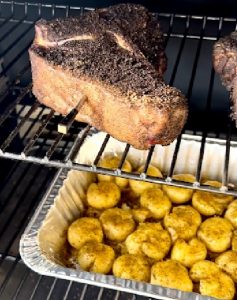 Equipment:
Ingredients:
· 2 500g T-Bone steaks or your preferred cut
· 2 Tbsp unflavoured beans – finely grounded or use 2 Tbsp of Traeger Grills Coffee Rub if you have this on hand
· 2 Tbsp unsweetened cocoa powder
· 1 Tbsp brown sugar
· 1 Tsp smoked paprika
· 1 Tsp mild chilli powder
· 1 Tsp garlic powder
· Decent olive oil
Sauce:
· 6 Easter eggs – medium size (I use Cadbury hollow eggs) – you want 100g-150g in total
· 2 Tsp maple syrup
· 1 Tsp coconut oil
Steps –
· Mix coffee, chocolate, brown sugar, paprika, chilli and garlic powder with a pinch of salt and pepper in a bowl
· Apply light coating of olive oil all over the steaks and then coat the mix generously on all sides of the steaks ensuring to press the rub into the meat
· Wrap the steaks in cling wrap and let the steaks sit at room temperature for 30 mins
· Time to turn on your Traeger Grill. Set the temp to 100 Celsius and let heat up for 15 mins. Utilise your super smoke function if your grill has this.
· Once your steaks have been resting for 30 mins, unwrap and place on the middle or top shelf of your grill. doing this will remove them from the direct heat the bottom shelf receives and give you a more even cook.
· When internal temperature reaches 54 Celsius remove from the grill (covering loosely with foil) and increase grill temperature to 230 Celsius.
· After 15 mins place the steaks back on the grill this time on the bottom shelf and sear both sides for 2 to 3 mins or until it reaches your preferred doneness.
· Now, let it rest for 5 mins and make your sauce
· Place your Easter eggs into a heavy bottom pan on your Traeger (that is in shutdown mode) along with the coconut oil and whisk until melted (don't stop whisking or the chocolate can burn. After a few minutes pour the maple syrup into the chocolate sauce
· Time to eat so place your steak on a plate and either pour the sauce directly over the top of the steak or in a jug and serve with roast potatoes.
About Traeger Grills Australia: Traeger Grills, headquartered in Salt Lake City, has been revolutionising BBQ grilling and outdoor cooking for over 30 years with one simple, all-encompassing cooking solution. Traeger pellet grills use 100% all-natural hardwood fuel to infuse food with flavorful smoke, making food taste delicious and most of all, memorable. As the inventor of the original and world's top selling wood-fired grill, Traeger utilizes wood-fired convection power to provide 6-in-1 versatility; grill, smoke, bake, roast, braise and BBQ meals to perfection every time. For more information about Traeger Grills' complete product line, where to buy and to learn more about the wood-fired difference, visit www.traegergrills.com.au