It's a rainy day in Sydney, so automatically that means its OK to get takeaway for lunch and dinner, so why not try Foodora.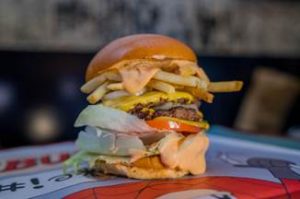 The global restaurant delivery service phenomenon, has this week announced its partnership with the famous burger joint Down-N-Out in Sydney. Favourites on the menu include: The 'Double', made with double Wagyu beef, American cheese and all the trimmings, 'Chick'N', a bun stuffed with a mouth-watering southern fried chicken thigh, and the 'Vego', in place of meat is a delish spinach and ricotta patty.
Earlier this year, foodora joined forces to help deliver Down-N-Out's awesome limited edition Pokemon burgers, via its live Pokemon Go!  This was such a HUGE success, and so foodora is thrilled to partner with the joint exclusively, helping to feed Sydney's obsession with burgers.
Check out Foodora here.