There's going to be chocolate galore in many households over the next week. So we've teamed up with Freedom Foods Nutritional Advisor Dr Joanna McMillan to give you some Easter themed recipes –  Crunchy Dark Choc Easter Treats and Oat & Barley Berry Crumble Slice. Have a look, and get cooking with your kids at home!
Crunchy Dark Choc Easter Treats
Makes 12 treats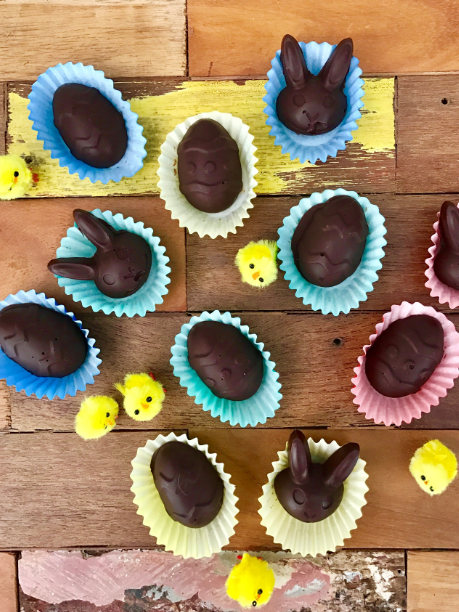 Ingredients
200g quality dark chocolate (minimum 70% cocoa)
60g Freedom Foods Crafted Blends Clusters (any flavour – I used Vanilla Maple & Flaked Almond)
Method
Break the chocolate up into squares and melt in a small glass bowl over a pan of simmering water on the stove. (Alternatively, you can melt the chocolate in the microwave.)
Place the Clusters into a ziplock bag, seal and then bash gently with a rolling pin to break up the larger pieces and forms a crunchy crumb.
Stir the Cluster crumb through the melted chocolate. Spoon into a silicon Easter mould tray, taking care not to overfill (otherwise the edges of your eggs and bunnies won't be neat.) Place in the fridge for at least an hour to set.
Gently tip the treats out of the mould and place in mini patty pan cases. Keep in the fridge or a cool pantry until ready to eat.
Oat & Barley Berry Crumble Slice
This fabulously easy to make berry crumble is delicious cut into slices and served with coffee or tea, or with a spoonful of thick Greek yoghurt for dessert.
Serves 8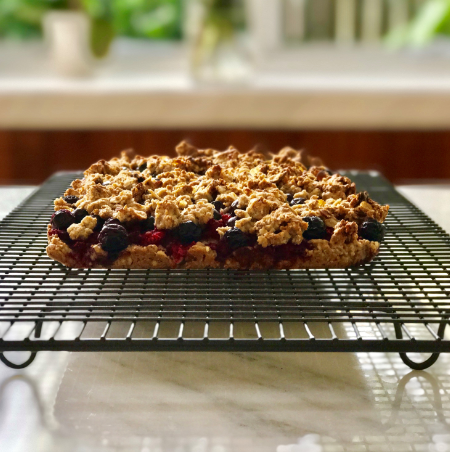 Ingredients
1 cup Goodness Superfoods Oats & Barley
1 cup almond meal (you can make this yourself in a high-powered blender from 1 cup raw almonds)
1 cup wholegrain flour
pinch salt
1 tsp mixed spice
½ cup brown sugar
2 eggs
¼ cup extra virgin olive oil
1 cup frozen raspberries
1 cup frozen blueberries
Method
Line a 20x30cm slice tin with baking paper. Preheat the oven to 180°C.
Combine the oats & barley, almond meal, flour, salt, mixed spice and brown sugar in a mixing bowl. Add the eggs and extra virgin olive oil and stir with a spoon until well combined.
Tip the mixture into the prepared slice tin, reserving about a cup of the mixture to use as the topping.  Spread the mixture in the tin and using your fingers or the back of a spoon press down firmly to cover the bottom of the tin evenly.
Tip the berries over the top and spread out evenly over the base. Break the raspberries up a little with your fingers as you do so.
Sprinkle the remaining crumble mixture over the top.
Bake in the oven for 35-40 minutes or until golden brown. Leave to cool in the tin for 5 minutes before slipping out onto a wire rack to cool completely. Cut into slices and serve.