This premium Jack Ryan Irish whiskey is a 15 year old single malt which has been aged in bourbon barrels and then finished in sherry casks – Bourbon and Bodega – Bourdega!
The Ryan family have long associations with Irish Whiskey going back to a time when they bottled their own Ryan's Malt which they produced in association with The Dublin Whiskey Distillery until the famous distillery closed its doors in 1946. To celebrate the Ryan's Beggars Bush 100th Year Anniversary in 2013, the family identified an opportunity to revive their Jack Ryan's Malt.
No chill-filtration and small batch release limited to 2500 bottles worldwide.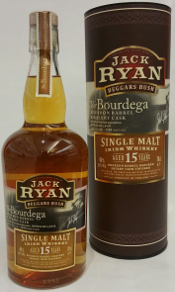 Tasting Notes
Nose:  Just cut fresh granny smith apples,  candied orange zest, hints of sherry and cut grass. Delicate layers of honey and fresh vanilla cream.
Taste: Stewed fruits, hints of citrus and honey. Fresh apricots mixed with creamy yoghurt, tied together with luscious sherry and roasted almonds.
Finish: Spicy and smooth, mouth coating sherry, hints of oak with nuts and more stewed fruits.
Buy this fine beverage right
here
at the World of Whisky website.