If there's one criticism I have of some of the speakers on the market at the moment, it's that they look pretty ugly when you have them in your home. They can be big and bulky, dark in colour and stick out like a sore thumb, but Harman Kardon have gone the other way with their design of the Aura Studio home speaker system. This thing looks cool! In fact at first glance, it looks like a vase just awaiting some flowers, or is it a really fancy carafe just waiting for your wine to be poured in, or is it a really funky fish tank? It's obviously none of those, but it is a 360 degree Bluetooth speaker which not only combines excellent sound quality, it also looks good.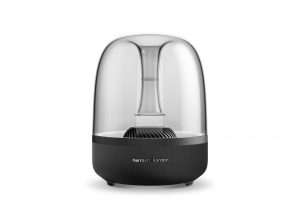 "We don't want you to hide speakers around the room," said Marcus Fry, Brand Activation Director at Harman. "We believe sound should be seen and heard, which is why we want to develop speakers that sound as good as they look. With its smooth curves and beautiful lines, we believe the Aura Studio is a true design piece for any living space."
So who are Harman Kardon? They sound like a posh law firm in the city to me, which of course they aren't, in fact they are a division of Harman International Industries and manufactures home and car audio equipment. They were founded in 1953 by Sidney Harman and Bernard Kardon. You can read more about them here.
For multi-directional sound and a powerful bass, the Aura Studio is designed to deliver uncomplicated precise audio moments that must be heard to be believed. After trying several different types of music, there was no real areas of weakness, however what sounded best at Dads Stuff HQ was live recordings. You genuinely felt like you were at a live music venue with the band a matter of metres away.  The system's custom, stereo-widening DSP audio technology is engineered to fill the room with full frequency sound and elevate each beat, note and rhythm… it certainly does that.
No arguments over who has control of the tunes either, as you can connect two devices at anyone time to the Aura Studio. It's all Bluetooth too, so you can kick back, relax with your feet up and pump out some tunes (or of course some Wiggles classics if your little one is in control of the music – which they often are right?)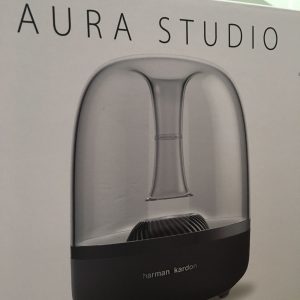 This speaker also makes for one heck of a conference call tool too. A built-in speakerphone with Harman VoiceLogic echo and noise cancellation system enables crystal clear calls. Certainly a talking point in your company boardroom, or the ultimate hands free kit at home!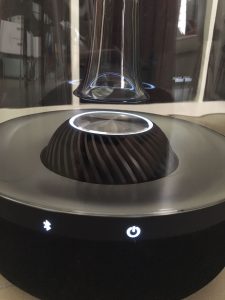 So what are the Tech Specs for the Harman Kardo Aura Studio? For those of you that understand them… here you go!
THE TECH SPECS
Type: Home audio system
Frequency response: 50Hz-20kHz
Transducers: 4.5" for Woofer, 6 x 1.5" for Tweeter
Power consumption: 57W maximum, <0.5 eco-standby mode
Dimensions (W x D x H): 25 x 25 x 36cm