You know we love gadgets here at Dads Stuff (here's one you might also like!), and you know we love cool watches here at Dads Stuff, but did you know we'd found the best of both worlds in this uber cool watch from Leatherman? Have a look at this and read all about the Leatherman Tread Tempo right here, it's a serious piece of gear.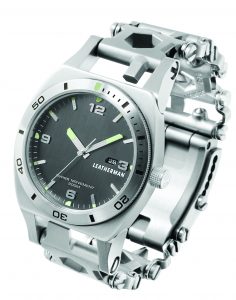 The TREAD™ Tempo is a combination of the original TREAD™ band with interchangeable multitools in each 17-4 stainless steel link, combined with a deluxe Swiss-made, precision quartz timepiece. This watch is ideal to have on hand for the expected and unexpected. "The idea for the TREAD™ originated on a trip to Disneyland with my family," said Ben Rivera, president and CEO of Leatherman Tool Group, Inc. "I was stopped at the gate by security for carrying my Skeleton, which has a blade. I was unwilling to give it up, so I took it all the way back to my hotel
room and spent the rest of our trip thinking up ways to carry a multi-tool with me that would be accepted by security."
The timepiece on the TREAD™ Tempo displays both the time and date, features a unidirectional diver's bezel and glow-in-the-dark hands and hour markers. The shock resistant sapphire crystal ensures scratch resistance for heavy duty wear, and the curved watch face limits reflection and increases outdoor visibility. We told you we love gadgets, and we love this!
The watchband comes with six links with the following tools:
• 3/32' Screwdriver
• 6mm Hex Drive
• 4mm Hex Drive
• #3 Square Drive
• #1 Square Drive
• Pozi-Driv #3
Three more interchangeable links are included with the following tools:
• 8mm Box Wrench
• Pozi-Driv #2
• 11mm Box Wrench
That's a fair amount of gadgets in one watch!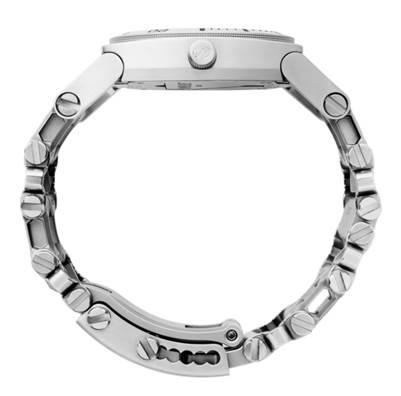 This watch-meets-multitool is water resistant up to 200 meters, TSA-friendly and adjustable both in link choices and wristband sizes. The TREAD™ Tempo additionally comes with a 25-year band warranty and a five year battery warranty.
With a sleek, stainless-steel design, this watch is the ideal combination of extreme practicality and style, perfect for the job site, going through airport security or a night out. RRP $799 // Available to purchase from all good retailers from late-March 2018
About Leatherman
Founded in 1983, Leatherman is the world's largest manufacturer of tools that prepare people for both expected and unexpected challenges, journeys and adventures. Founder Tim Leatherman's real-life experiences inspired him to build the world's first multi-tool, and his dedication to quality engineering and craftsmanship has driven Leatherman for more than 30 years. The Oregon-based company distributes its high-quality Leatherman multi-tools which are manufactured in Portland in more than 86
countries.
Learn more about Leatherman right here.