Another beer review for you this week, courtesy of one of experts, Andy.
I have to admit, when it comes to choosing a wine, I'm more likely to pick up a bottle mostly due to a label that catches my eye.  Not the name of the winery but more the label's design.  And so it was that this beer – 1906 Reserva Especial – caught my eye over the weekend.  Always on the lookout for something new, I thought I'd give it a try.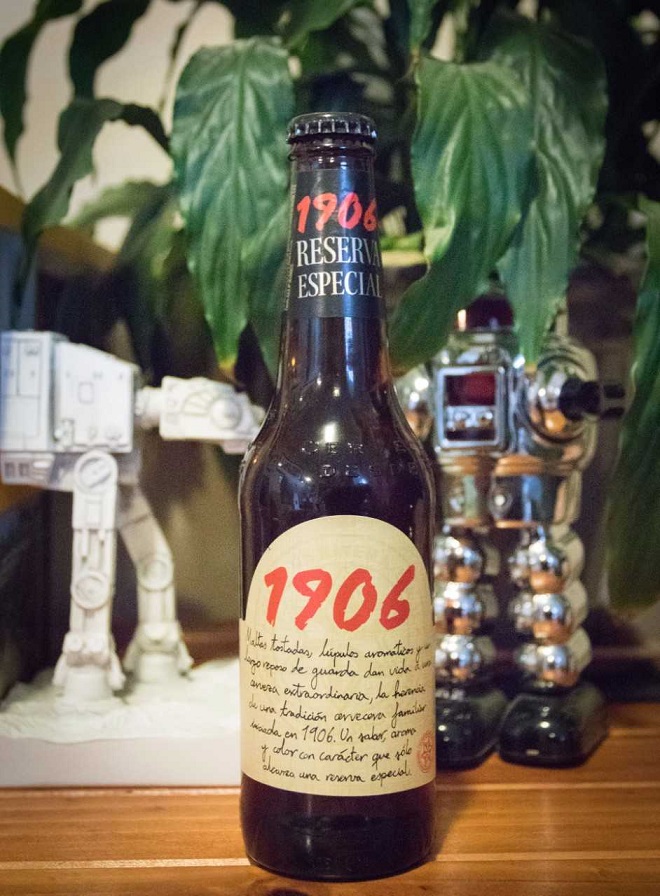 Brewed at the Hijos de Rivera Brewery in Spain (founded in 1906, wouldn't you know), the Reserva Especial – or Special Reserve – was brewed for the brewery's centenary in 2006.  It's a little stronger than their regular pale lager (6.5% alc vol as opposed to 5.5%) but it certainly doesn't taste it.
It's a malty beer but far from heavy, although I'd be more inclined to drink this during the cooler months of the year.  It's a beautiful amber colour, & if my amateurish palate is to be believed I'm sure I detected a hint of coffee in there.  The beer foamed beautifully when poured, reminiscent of all good European beers.
I'm not a fan of 'fizzy' beers, preferring instead a smooth ale whose hops & malt flavours are at the forefront, & that describes this beer perfectly.  It went down smoothly & left a gentle after taste.
As I said, I don't know that I could sit around a BBQ drinking too many of these, but I could easily imagine polishing off a few bottles whilst seated by an open fire in the East Sydney Hotel.  The label may have gotten that first beer into my hand, but it's flavour had me returning for the rest of the six-pack.
Read about Reserva Especial 1906 right here.